CPanel is one of the most used web hosting control panel but it is not Free. Due to the recent new pricing scheme for CPanel, customer's businesses have been impacted destructively. Therefore customers are migrating their websites from CPanel to other web hosting panels. Most of the businesses started migrating their websites from CPanel to DirectAdmin Panel which is also not Free.
There are Few best panels which have almost the same feature as CPanel. Also, some Free web hosting panels like CyberPanel can provide better interface and features than CPanel.
In this article, we will guide you through the CPanel alternatives and help you to get managing your Linux servers without wasting your money.



The 5 best CPanel Alternatives 2020:
1. CyberPanel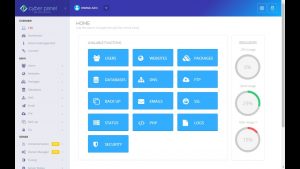 CyberPanel is the best alternative to CPanel. It is powered by OpenLiteSpeed built for Speed, Security, and Reliability. It has LSCache Module with cache plugin for popular CMS, GIT Deployment (Github and GitLab) to your websites and deploys code directly from your repo via GIT webhooks. CyberPanel come with a one-click app installer for WordPress, Joomla, and Prestashop with LSCache for better speed.
CyberPanel is most secured among all panel. It has support for ModSecurity, real-time defense against web application attacks, option to enable Comodo or OWASP rules.  CyberPanel comes with One Click SSL, you can issue free of cost Let's Encrypt SSL for websites. Email Limits and SpamAssassin is also there to stop email spams. Rainloop webmail to access your business email. It also has a Lightweight DNS server. For the security of CyberPanel, FirewallD is installed by default and only necessary ports are opened.
The best thing is it also supports Multiple PHP versions for websites. You can also install other PHP extensions by just one click from PHP extensions settings in the panel.
It also contains a Remote Backup function. So you do not need to take a backup every time. It will auto backup your website. You can make three types of users i.e Admin user, Reseller user, Simple user.
I personally use CyberPanel, because it has almost all the functionality that web panel needs with speed and security. The minimum requirement of CyberPanel is 1Gb Ram and 20Gb Storage.
2. CentOS Web Panel (CWP)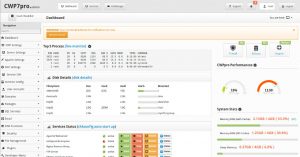 CentOS Web Panel is another good alternative to CPanel. CWP is totally free. Many VPS providers give CWP preinstalled in their VPS servers.
CWP comes with Apache webservers, firewalls, MySQL databases, SSL certificates, an Nginx reverse proxy, self-hosted email, and much more. It also has a backup function, system health and service monitor, User management.
There is one unique feature in this panel i.e its Auto-Fixer, which scans important configuration files and attempts to auto-correct them in case you make a mistake.
It only supported on CentOS. The minimum requirement is at least 1Gb ram.
3. Webmin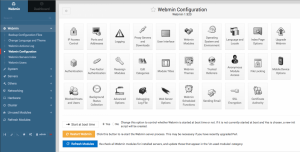 Webmin is also completely free and a common panel used nowadays. It is the most feature-rich cPanel alternative.
You can do everything which you can do in paid CPanel. you can back up configuration files, set up and configure Apache webservers, monitor bandwidth, configure fail2ban, establish your iptables firewall, administer users, set up cronjobs, secure your SSH connections, and much more.
Default interface might look bit hard to use. If you install some authentic theme then it will be easier to understand and use Webmin. You can install Webmin in almost every distro of Linux i.e Ubuntu, Debian, CentOS.



4. VestaCP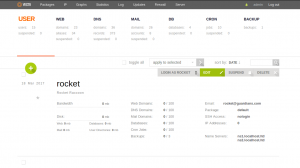 VestaCP is very simple and clever hosting panel. It is very lightweight panel and has almost every basic feature needs for hosting a website.
It comes with features like Monitoring and Logging, Backups, Firewall iptables and fail2ban, Nginx+Apache/Nginx+php-fpm/Apache, ClanAV antivirus engine, SpamAssassin, Exim+Roundcupe email services, Dovecot IMAP/POP3 server, Database mysql+phpmyadmin/Postgrate+phppgadmin, FTP VsFTPD/ProFTPD.
VestaCP does not have Filemanager you need to use FTP for file management. Although, you can add file manager externally by just adding one line in the config file of VestaCP.
5. ISPConfig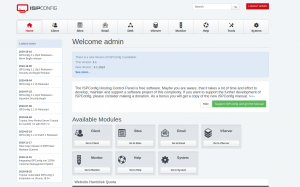 ISPConfig is an open-source hosting control panel for Linux. The best thing of this panel is it can access multiple servers from one control panel. It has three access levels Admin, Reseller, client.
It comes with Apache2 and nginx, Postfix for SMTP, Courier and Dovecot for POP3/IMAP, PureFTPD, BIND and MyDNS, MySQL, Webalizer and AWStats, It also supports 20+ different languages.
ISPConfig works Debian, Ubuntu, and CentOS, making it flexible for just about any application. The source code is available on the GitLab repository under an open-source BSD license.